Meet The Lennox Brothers…
With my plans to sell my café falling apart, I'm desperate for help. And I'm willing to accept it from anyone… except my famous TV-star ex-boyfriend.
But when disaster strikes, it's Kade who swaggers to the rescue. And now Mr. Charm-My-Panties-Off is working in my kitchen.
Though our attraction's still scorching hot, neither of us would survive a romantic rekindling. So we do the sensible thing and set some rules. No flirting, no kissing, and no… well, you get the idea. No funny business. What. So. Ever.
And sure, we're not perfect when it comes to rules. But how on earth did Kade and I end up fake engaged… on national television?!
✔ Second chance romance
✔ Fake engagement
✔ Flirty banter
✔ Romantic comedy
---
Mason Lennox was the boy next door. My best friend. My first crush…
Until he skipped town when I was fifteen⎼without a word of explanation⎼and shattered my heart.
Now Mason's back, and he's not a boy anymore. The world clearly isn't fair, because he's grown into the manliest hunk of manhood I've ever salivated over.
And suddenly Mason keeps showing up wherever I go. It's almost like he's watching me. I'm starting to crush on him all over again, but something weird is going on, and if there's one thing I can't stand, it's secrets.
Now things are heating up, my suspicions are growing. I can't trust him, but the one thing he is willing to offer me is utterly irresistible….
---
It should have been the perfect scheme.
Buying the empty house next door was about to earn me twenty-five million dollars. Only I've hit a snag.
Somebody's living in the house that should be empty. I have a mysterious and beautiful new neighbor.
The last thing I need is to get drawn into her troubles, but my trickster brother and evil kleptomaniac cat are conspiring against me. Now my irresistible new neighbor isn't just losing her panties and obliterating my self-control, she could mess up my master plan.
I have twenty-five million good reasons not to get tangled up with the gorgeous woman next door.
Turns out, that's not even close to enough…
---
Three things even worse than Christmas:
1. Returning to my hated home town.
2. Getting arrested.
3. Realizing the arresting officer is the boy I ran out on in high school.
Luke Penn may look spectacular in a cop's uniform, but I never wanted to see him again. He witnessed The Incident, otherwise known as the most embarrassing thing to happen to anyone ever. So as soon as I make it through my sister's Christmas wedding, I'll pack up my elf costume and catch the first sleigh out of town.
But when sparks fly between me and Luke, I'm forced to make an impossible choice.
Should I escape my cringe-worthy past?
Or take a chance on a Luke-alicious future?
No Ordinary Christmas is a stand-alone, second-chance holiday novella you'll love!
---
Want to get a Copy of No Ordinary Christmas for FREE?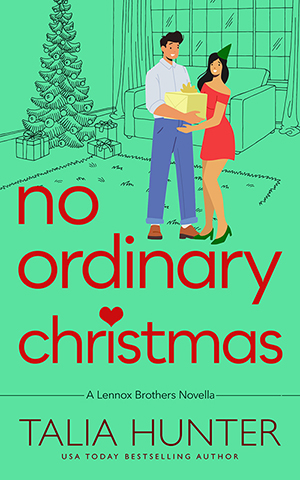 * You will be subscribed to my mailing list and can unsubscribe at any time.